Are you searching for an Ankarsrum mixer, but you don`t know which one to choose?
I am here to help you!
Here, I will choose the most popular models and write Ankarsrum mixer review with the characteristics of each model. You can check all Ankarsrum stand mixer models and find the perfect one for you.
The Ankarsrum Brand And Products
The Company History And Development
The Ankarsrum Company has a long history. It was established in Sweden in 1655. It is one of the oldest companies in Sweden. The kitchen appliances have been producing for 74 years, since the 1940s. Also, they have been producing different tools and appliances. In 2001 they were bought by Electrolux, but a few years later again become an independent company.
Products And Industries
There are 3 main industries they are producing. The first is Ankarsrum Motors which produces motors for different appliances. For kitchen appliances, tools, health care… Another segment is Ankarsrum Die Casting which cuts or prepares aluminum products. The kitchen appliances department produces similar-looking products and even 75 years old can use modern accessories.
Where To Buy Ankarsrum Mixer?
You can order their products from distributors all around the world. I recommend Amazon.com for extra discounts and reliable delivery. Ankarsrum Kitchen Assistant has different accessories so you can have more products in one. You can also find an Ankarsrum food processor or Ankarsrum grain mill online.
Customer Service And Support
On their website, you can find their contact if you have any questions. You can contact them via email or send them a letter. Also, you can register your product and find all the information. They have a blog with recipes where you can share your recipes and find some ideas on how to use the mixer.
Warranty And Price Range
Ankarsrum stand mixer is very expensive. They have high prices because are made of quality material to last longer. Also, they have a standardized prototype, so you can use attachments for any model. It has a 7-year warranty, which is one of the longest warranties for the mixer. You can contact them if you need and use your warranty rights.
Top Ankarsrum Mixer Review
Ankarsrum 6230 Review
Different Design For Different Need
Ankarsrum original mixer AKM 6230 has a very unique design. It has a wide base made of carbon and stainless steel. It has suction cups to stand firmly when is working. But, it changes its looks depending on what you use it for. If you use it as a pasta maker, you will have to add an attachment and lay it on the side. Yet, the mixer has a stable base and a big mixing bowl.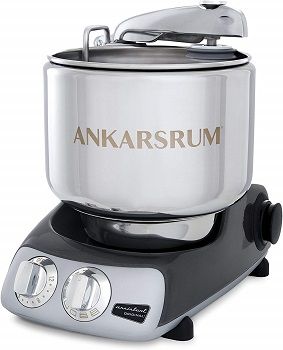 Ankarsrum Assistant Original Akm 6230 Motor And Functions
A mixer of this kind is professional help in a kitchen. It has a powerful motor with 600 watts which is capable of any task. Yet, it is quiet. It has 12 speeds which you can choose from. Slower speeds help you have a clean start and mix ingredients gradually. A power hub is placed under the mixing bowl and when you remove, you can change any accessories you need.
Attachments And Accessories
In an original package, it comes with a stainless steel mixing bowl. A bowl has 7 quarts capacity and you can have a large amount in it. Also, you will get a smaller plastic mixer bowl. For mixing, you have a wire mixing balloon and a single-wire whip. You will also get a dough roller and scraper, a dough hook and a dough knife. To protect from splashing and dust, there is a dust cover lid.
How To Use And Clean Ankarsrum Mixer 6230?
It is easy to use Ankarsrum mixer 6230. All of the controlling buttons are in the front. You can easily control speeds on the knob and type of mixing. It is easy to remove attachments. They can be washed in a dishwasher. Also, they are made of steel and very durable. It comes with a 7-year warranty if anything goes wrong.
Short description:
The design adjusts to every function
Powerful 600 watts motor
12 speeds
Made of stainless steel and carbon
Ankarsrum Mixer Attachments
As I mentioned, the Ankarsrum stand mixer comes with different accessories. Yet, if you want to buy some new accessories or you lost some, you can buy them on Amazon. Also, you can find Ankarsrum attachments for any machine and use it on their website.
Ankarsrum Stand Mixer Manuals
In every original package, you will get printed manuals with all information on how to properly use and clean mixer. If you lose them or want to find extra information, you can register your product and download them here.
Conclusion: Why To Buy Ankarsrum Mixer?
Ankarsrum stand mixer is a professional solution for any kitchen. Ankarsrum kitchen assistant model has sophisticated functions and it can become any machine with different accessories. It comes in different colors, so you have a variety to choose from.
If you change your mind and want to find a hand mixer, check some models on this blog. If you still want to buy a stand mixer but need a cheaper version, check this site for the best affordable stand mixer. All about hand mixer beaters you can read here.