Are you interested in buying a Litchi mixer?
You are in the right place to find all the information you need to know!
Here I will write about Litchi Live company and mention its products. Also,  I will provide you detail Litchi stand mixer reviews. On the end, you have a short description of every product to compare them.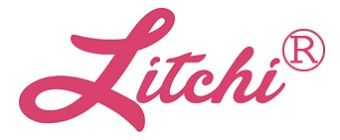 The Litchi Brand And Company
Company History And Mission
Litchi company is a relatively young company that distributes kitchen appliances from suppliers. They are dedicated to showing that they are a serious and reliable company. They also stress that these are some reasons that they are providing the best possible price.
Customer Service And Support
Since they know that people don`t usually trust new companies, they are trying to have customer service as much professional as possible. You can contact them via email or social services. Also, they are tending to have feedback to know what to improve.
Where To Buy Their Products?
You can buy their products on their web page. They provide fair and quick delivery and delivery check. You can search their products on their webshop, but you can also buy them from their distributors. I recommend you to check Amazon.com because it will be delivered fast and you can get a discount.
Warranty And Return Policy
They provide warranty for their products, but you must register on their web page to achieve it. The return policy is fair to the customer. You can return the product in 30 days without asking any questions. Also, if it is wrong, they will refund your costs.
Products And Price Variety
Despite stand mixers, they sell other products. They also have coffee makers and different kitchen accessories. Their stand mixers are a bit expensive, but they are a practical investment because most of them are more machines in one.
Top 3 Litchi Stand Mixer Reviews
Litchi Stand Mixer 5.5 Qt.
Practical Design And Features
Litchi mixer has a practical and minimalistic design. It looks good in any interior and uses little storage space. With a very compact and lightweight body, it is easy to transport around. It has a tilting head which makes it easy to remove attachments or add ingredients.
Powerful Motor And Various Speeds
The motor is powerful and capable of different tasks. It has 650 watts of power and can work for a long time without overheating. It has 6 speeds for different results. All of the speeds are hand changing on a knob by the side. Also, each one has a pulsing function to control the mixing process.
Attachment And Accessories
In an original package, you will get all the accessories you need for private use. There is a classic flat beater, a mixing blade, a whish, and a dough hook. Also, you are getting a stainless steel mixing bowl. It has 5.5 quarts and is capable of bigger quantities. Also, it has a big handle for easier removing or carrying.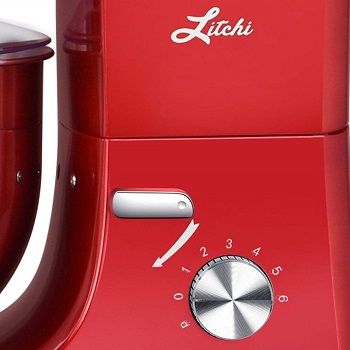 Easy To Use And Clean
All of the buttons are easy to reach. You have a button for head lifting and speeds knob.  All of the attachments can be washed in a dishwasher. It is made out of plastic so you can easily wipe it. The mixing bowl can also be washed in a dishwasher.
Warranty And Service Terms
You will get a 2-year warranty for Litchi stand mixer. You just have to register on the web and learn your rights. Also, you will get printed manuals with all the advice you will need. If something goes wrong, you can contact them or send it to the service.
Short description:
6 speeds
Mixing bowl with a handle
A 2-year warranty
Litchi 5.3 Quart Stand Mixer
More Machines In One
Combining more machines and functions in one, this machine saves your kitchen space and storage. Its primary function is stand mixer, but it can be a blender and a grinder, too. The grinder has accessories to become a pasta dies and is ready for pasta and dough preparation. It also saves time, because in a dish preparation all steps can be prepared in one machine.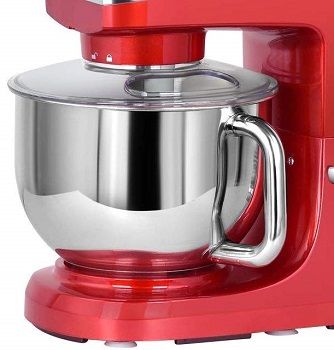 Mighty Performance And Functions
Because it has to be multifunctional, it has a powerful motor. It is placed in a plastic body and has 650 watts of power. It can`t overheat, but you should be careful if you are doing more things at one or doing it for a longer time. It has 6 different speeds of settings for any situation.
A Lot Of Accessories
Since this Litchi 5.3 quarts stand mixer has more functions; you should have multiple attachments for it. For a mixer, you will get 4 beaters: a wire whisk, a flat classic beater, a dough hook, and a mixing blade. The mixing bowl is very big; it has 5.3 quarts and is stainless steel to last longer. It has a big handle to move it easily. For grinder, you will get different pasta dies, sausage stuffers and meat grinder assembly. You will also get a blender jar for blending ingredients.
Using And Cleaning
Litchi stand mixer is easy to use; it has a main knob for speeds on the side. Also, there is a button for tilting head which helps you adding ingredients or remove accessories. Also, it has a splash guard which protects from splashing around. All mixing accessories can be washed in a dishwasher, but you should be careful with small attachments for grinding.
Short description:
Powerful motor with 6 speeds
expensive, but long-lasting investment
a lot of accessories
3 machines in one
Litchi Chef Machine
Professional And Sophisticated Solution
This model of a Litchi mixer is a professional solution for every household. It has a modern and minimalistic design, yet, all of its characteristics are professional. It is more expensive than other models, but it is a long-term investment. Also, you will get a 2-year warranty if anything goes wrong.
3 In 1 Model
Litchi chef machine is 3 machines in one. It is a grinder, blender, and mixer. There are accessories for every purpose. Also, it saves your space in the kitchen and storage. It is a bit heavier, but once you put it somewhere, it is stabile. Also, its wide foot makes it stabile when mixing.
Sophisticated And Innovative Accessories
This model has some different accessories than others. The biggest difference is the heated mixing bowl. You can turn on the heater under it which will warm up ingredients like butter to mix them easier. Bowl has 7.4 quarts and can handle a large amount. For the mixer, there is also a transparent splash guard to protect from the mess and to add ingredients easily.
Different Attachments
There are 3 attachments for a mixer: a mixing blade, a whisk, and a dough hook. For grinder, there is sausage stuffer and a meat grinder assembly. And for a blender, there is a blending cup.
Powerful Motor And LCD Control Panel
Motor for this Litchi mixer is the most powerful. It has 1000 watts for mixing. Also, it has 10 different speeds. From the clean and slow start to powerful speeds. On the side, there is an LCD screen where you can set a timer, control speeds or set automatic work. Also, you can remove tilting head with a button next to it to add ingredients or remove beaters.
Short description:
Heated 7.4 quarts mixing bowl
10 speeds and powerful motor
Blender, grinder, and mixer in one
LCD screen to monitor functions
Litchi Mixer Attachments And Parts
When you use mixer often, some parts may loose or break. If you need them, you can order them from their web page. There you can find shields, beaters, and bowls. You can find Litchi stand mixer attachments that you didn`t even get, but you may need them.
Litchi Mixer Manuals
You will get printed manuals and instructions in an original package. If you lose them or need extra information, you can download them from this site. There you can find information on how to use it, detail description of their functions and accessories.
Conclusion: Why To Buy Litchi Stand Mixer?
Litchi mixer is a bit expensive investment, but they combine more functions and save your storage. The first model is Litchi stand mixer which is a basic model of a stand mixer with user-friendly functions.  Another model of Litchi mixer combines mixer, grinder, and blender in one with advanced functions, like the heating bowl and the LCD screen.
I would recommend you to read this article about the handheld mixer. If you need some cheaper solution, read this blog about the best affordable stand mixer. All information for a mixer for baking you can find on this post.