Are you interested in buying the Ovente professional stand mixer?
Then you should read my article!
Here I will describe and compare two models of the Ovente stand mixer. It will help you to learn about their products, but also compare them with other models. I will stress their characteristics and list specifications under every review, so you can easily compare them.

History Of A Company
Ovente company is a relatively young brand. It has started working in 1999 selling kitchen and home appliances. They are selling local or imported goods. With their deliveries and manufacturing, they are trying to deliver you the most quality product. Also, they care a lot about the environment and eco-friendly producing.
Ovente Home Appliances
Despite my article about their stand mixers, they produce many other home appliances. Their products can be divided into 3 groups: kitchen appliances, like a toaster, mixers, coffee grinders, fryers; to beauty tools like mirror and dryers. Also, they sell mops and vacuums.
Where To Buy It?
You can buy their products directly from their website. They have a legible webshop and promise fast and smooth delivery. They explain to you how long approximately it`ll last and which transport they use. Also, they send their products worldwide. But, if you want to get their products safely and find a discount, I recommend you amazon.com.
Range Of Price
Ovente mixers have an affordable price. Comparing them with other home and kitchen appliances, it is a fair price for a product you buy. If something goes wrong, they have customer care and service center for repairment. You also have a 1-year warranty for each product.
Best 2 Ovente Stand Mixer Reviews
Ovente Stand Mixer SM890R
Comes With Accessories
This model of stand mixer comes with all needed accessories. You will get a pair of beaters, a steel bowl for mixing and a bag for storage. Also, it comes with manuals and a 1-year warranty. Thanks to rotating bowl base, it will beat dough or cream evenly.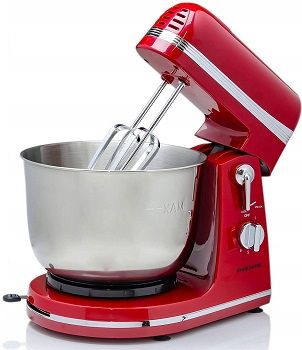 Easy To Use And Storage
The mixer is practical for several reasons. It has a user-friendly design with buttons on the one side. On the bottom of the base are non-slip parts. On the one side is a wheel for controlling speed. The eject button is on the top. Head is easy to lift with just one hand. When you want to store it, you just fold it. In the package, you get storage stand for all accessories and you can put it in a bag.
Unites Powerful Motor And Practical Functions
Thanks to powerful 300W motor, it is capable for different tasks. You can choose between 6 speeds to reach the perfect one. In a combination with a rotating base, it helps you to have a smooth dough or cream. Also, mixing bowl it tall enough to protect from splashing cream around.
Design And Materials To Last Longer
The mixer is made out of quality steel to last longer and endurance in the kitchen near the steam, water, and liquids. Thanks to flat surfaces, it is easy to clean. Also, bowl and beaters can be washed in the dishwasher.
Short description:
Powerful motor and 6 speeds
Rotating base
Easy and practical to storage with storage stand
Ovente Professional Stand Mixer SM880R
Sophisticated And Practical Design
Unlike the previous model, this Ovente stand mixer has a more sophisticated and eye-pleasing design. It also has clean surfaces and is easy to clean. It comes in a red color and suits different interior styles. On the side, there is a modern silver line as a brand mark.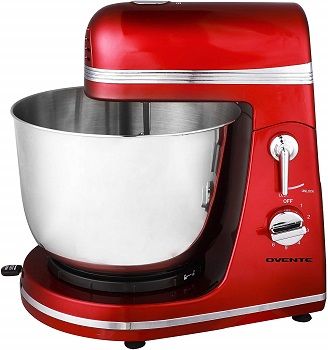 Professional Solution For Any Task
It is easy to work with it since you don`t have to watch it every second. It has a rotating base for even mixing. On the bottom, it has nonslip legs to be safe when mixing. Also, you can lock and unlock it, so it is safe if you have children around. You can easily lift the head with only one hand.
Functions And Dimensions
This model has a 300W motor and 6 speeds to choose the perfect one you need. On top of the head is an eject button to pull out beaters easily. All of the buttons are easy to reach any moment.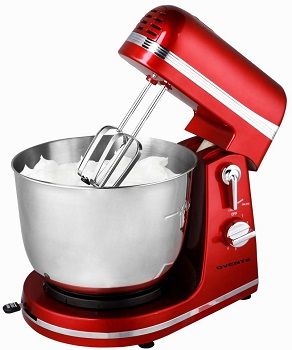 Accessorises And Warranty
In its original package, it comes with beaters and steel bowl for mixing. Bowl has measurement marks. The cable is long enough to manage it in your kitchen. It comes with printed manuals and a 1-year warranty. Also, you will get 2 pairs of beaters, one for dough and one regular for mixing.
Storage And Maintenance
This model of professional stand mixer can`t be folded. It stands on one spot, but because of curved lines, it won`t take too much space. Thanks to steel house water, steam or liquid won`t destroy it. You can wash a bowl or beaters in a dishwasher.
Short description:
Powerful motor and 6 speeds
Sophisticated and modern design
You can lock it
2 pairs of beaters and a big mixing bowl
Accessories And Parts Replacement
Since they have a wide range of products, they don`t sell many parts. They have parts for vacuums, blenders, and smaller machines. But if you need anything that is broken, they provide you with their contact to reach them. Yet, you can find some of the parts that you don`t get in an original box and upgrade your product.
Conclusion: Why To Buy An Ovente Stand Mixer?
Comparing both mixers, they have similar features and performance. What makes the most difference is the design. Ovente Professional Stand Mixer SM880R has a more appealing design than  Ovente Stand Mixer SM890R-Red. Yet, it depends on your interior design and preferences.
Unless this short description, there is plenty to read about hand mixer and I recommend you to read this post. If you are interested in more serious stand mixers, you should read my post about the best stand mixer for baking. If you just want to save some money and need a cheap stand mixer, read my post about them here.