Are you searching for a cordless hand mixer?
Read my article to find the best model for you.
Here, I will write a review of some of the most common battery-powered hand mixers. You can compare cordless hand mixer reviews and find the perfect model for your needs. Find all the information you need and some additional advice at the end.
General Battery Hand Mixer Facts
More Transportable Solution
Cordless handheld mixers are an ideal solution for traveling and moving around the kitchen. You don`t need to be near an electricity source to use it. Also, they are a good help for camping or traveling when you are away from electricity.
Fewer Functions To Use
Since they are batteries powered, they have fewer options to use. Mostly, they only have one speed for use. They can`t use that much energy and need to save it to work longer. Yet, all of them have user-friendly functions and are capable of different tasks.
Compact And Space-Saving Kitchen Help
These types of mixers have a small and compact body. That makes them lightweight and comfortable for holding. Also, they are easy to clean. Mostly, it is easy to remove and wash attachments. Since they are so small, you can store them in a kitchen drawer and they won`t use too much space.
Ways Of Charging And Power
There are different types of charging. Some mixers have batteries that you have to change or charge when they are empty. Some can be charged using electricity and USB chargers. Also, working time depends on the task they are used for and the types of power they use. Yet, they all have limited working time.
Battery Powered Hand Mixer Price Range
Since they are so small, they are usually very affordable. The price depends on the producer and quality. Also, some models have more attachments and a higher price. It depends on many things, but usually, they are cheaper than a hand mixer models and a lot cheaper than stand mixers.
Best 5 Battery Powered Hand Mixers
Best Battery Powered Hand Whisk
Wonderper Cordless Hand Mixer
3 Different Designs In One Mixer
This model of a mixer has a unique design. Thanks to rotating hand, you can move its positions to three different angles. It can have a drill-like head on 90 degrees, then 135 degrees diagonal and completely stick-like at 180 degrees. It has an ergonomic handle for easier holding.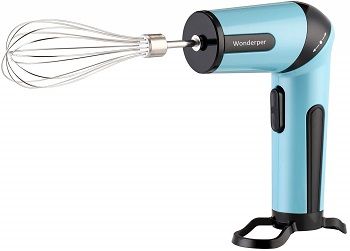 Only 2 Speeds
For someone who has been using mixers with more speeds, this could be different. This mixer has only slow and fast speed. The button is on the handle so you can easily change them using one hand. That why is this handheld egg beater perfect for lighter things, like whisking eggs, mixing creams or sauces.
How Long Can It Work?
Since it works on batteries, it can work for a maximum of 60 minutes continuously with 3 or 4 hours of charging. It is lightweight and portable, so you can bring it anywhere with you. It is made of plastic to be lightweight and has a hook on the bottom on which you can hang it.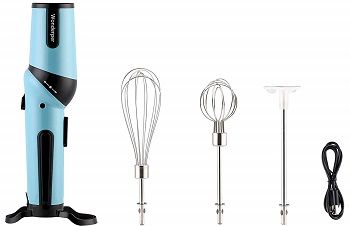 Attachments It Comes With
The egg beater comes with three different attachments. There are a regular wired whisk, a cream beater, and a drink mixer. They are made of stainless steel and dishwasher-safe. Also, it comes with a USB charging cord.
Simple Everyday Solution
This portable egg beater is a practical solution that you can take everywhere with you. It is intended for personal use only. Also, it is ideal because you are not limited to a cord and can move everywhere.
Short description:
Batteries powered and chargeable
2 speeds
3 different head positions
Best Battery Operated Mini Mixer
Hongxin Milk Frother Battery Powered Mixer
Appealing And Compact Design
The design of this cordless hand mixer is very modern and compact. It has an ergonomic design of an upper handle to hold it firmly and comfortably. The black rubber body looks elegant. It is very small and you can put it in a drawer with other small kitchen accessories.
Ideal For Lighter Tasks
Since it is very small, it has a specific purpose. It is perfect for foaming milk or coffee, beating eggs and mixing drinks. It can be used for personal needs or in a coffee bar.
Battery Powered Solution
It is powered on 2 AA batteries. They are not included in an original package, so you have to buy them. Also, if it isn`t working, you should replace them. Thanks to cordless power, you can move freely around and bring it everywhere with you.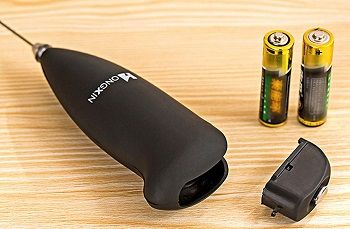 Functions And Using
It is easy to use this cordless hand mixer. The main power button is on the top and easy to reach. You have to hold it to work. If you want to clean it, you can just wash the mixing attachment. Don`t wash the body under the water. Mixing attachment is made of metal and durable. It is perfect for quick foaming and not for other tasks.
Short description:
Top-mounted power button
Lightweight and ergonomic body
2 AA batteries power
Best Battery Operated Stick Blender
Cuisinart Cordless And Rechargeable Smartstick Hand Blender
Sophisticated And Modern Stick Blender
Probably one of the most sophisticated hand blenders; this is a modern kitchen appliance for different situations. It has a professional look and can be used both for personal and professional needs. It is made of stainless steel and has a shiny silver surface that makes it stylish.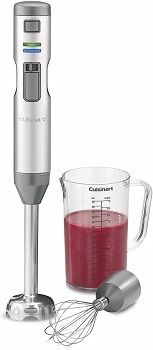 Attachments And Accessories It Comes With
This stick blender comes with 2 different attachments for different use. It has an original blender attachment with knives. Also, it comes with a whisk for mixing and a 4-cup measuring cup. All of the attachments can be washed in a dishwasher. Avoid washing the mixer body under the water.
How Long You Can Use It?
It is powered with 2 lithium-ion batteries. They can be quickly charged and last for 20 minutes. It comes with a charging cord in an original package. You can`t charge it and work with it at the same time. To be extra safe, a blender attachment has a guard to protect from injuries.

Functions And Controlling
Unlike other cordless hand blender models, this has 5 speeds that you can choose from. All of the buttons are on the front side and easy to reach with one hand. It has a lock and unlocks feature to keep it safe when is not working.
Higher Price For Quality Product
This hand blender with battery is professional help in a kitchen. Since it has more attachments and functions and is made of durable materials, it has a higher price.
Short description:
2 dishwasher safe attachments
5 speeds
Unlock and lock feature
Professional kitchen help
Best Hand Held Battery Operated Whisk
NutriChef Electric Cordless Kitchen Hand Mixer
Simple To Use And Control
The best cordless hand mixer is lightweight and practical for different tasks. It has a practical handle to hold it comfortably. All of the buttons are top-mounted and easy to reach. Thanks to cordless power, you can use it wherever you want.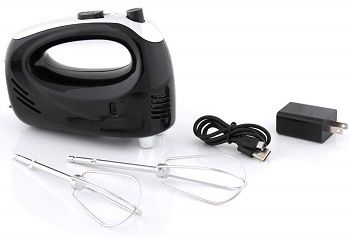 Powerful Motor And Speeds
Thanks to the powerful, but quiet motor, this cordless mixer is capable of different tasks. It has 3 speeds. Slower speeds allow you to have a clean start.  You can use its functions for more complicated tasks like dough kneading.
Attachments And Cleaning
In an original package, it comes with only regular beaters. They are made of stainless steel and dishwasher safe. Also, they are suitable for any mixing bowl. You can easily remove them thanks to an eject button on the top.
Charging And Using
Thanks to the rechargeable lithium-ion battery, you can bring it anywhere with you. It can work for approximately 30 minutes after charging. You charge it on a USB charger that comes with it.
Affordable House Solution
The battery hand mixer has a very affordable price but is made of quality plastic to be durable. It uses a little storage space and is intended for personal use only.
Short description:
3 speeds and powerful motor
Rechargeable battery
Eject button for removing attachments
Best Small Hand Mixer Battery Powered
Black & Decker GM200 Gizmo Mixer
The Most Expensive Cordless Mixer
Without a doubt, this is the most expensive battery-powered hand mixer. It comes with a storage caddie which can be mounted on a wall and save you space. Also, you will get a 1-year warranty if anything goes wrong.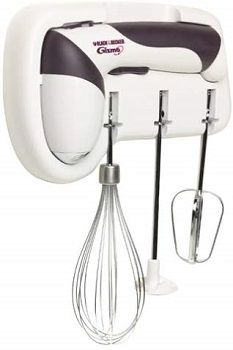 Ergonomic And Functional Design
The design of this handheld battery whisk is simple and user-friendly. It looks like a drill with an ergonomic handle. All of the holding parts are covered with rubber to be safe for holding. It is made of durable plastic and lightweight. You can keep it on a caddie or the flat rest heel.
Attachments And Its Storage
You don`t have to worry about where to store attachments because they have slots on the caddie. There are 3 different attachments: a whisk, a standard beater, and a drink mixer. They are all easy to remove and can be washed in a dishwasher.
Functions And Motor
Thanks to the powerful motor, you can use it in different situations. You can choose between 2 speeds. All of the control buttons can be easily reached with one hand. It works quietly using battery power. Batteries are rechargeable quickly. Working time after charging depends on the task.
Short description:
3 different attachments
Powerful motor and 2 speeds
1-year warranty
Wall-mountable caddie
Conclusion: Which Are 2 Best Cordless Handheld Mixers To Buy?
Cordless mixers are a great solution if you need a kitchen appliance which doesn`t use much space and you can bring it everywhere with you. The best cordless hand mixer is Wonderper cordless hand mixer because of practical functions. There is also the best cordless hand blender with 2 different attachments.
If you just want a regular model of a hand mixer, read this blog to find the most popular models. If you are searching for a whisk attachment for a hand mixer, read about mixer attachments in this article. If you want to buy on a budget, find a cheap cake mixer on this page.