Are you searching for the best model of Vonshef mixer, but you don`t know where to buy it?
I will provide you with that information!
In this article, I will describe the characteristics and features of the most popular models.  Also, I will advise you about buying parts and accessories. In the first parts, I will mention the most searched facts. In the end, I will advise you other articles orVonshef mixer reviews if you can`t find all the information in my article, so be sure to read it all.

The Vonshef Brand Information
The Brand Mission
Vonshef brand has a mission to provide quality and innovative kitchen appliances. Their products are intended for personal usage and everyday work. They are based in Manchester. From there, they design products for any kitchen. As they say, the mission is to create a kitchen as a favourite homeroom.
The Price Range
For the quality they sell, the price of their products is fair. You can find some cheap solutions and have a quality product at a cheap price. Some models that are more professional or have more features are more expensive but in a range of competition or even cheaper.
Range Of Products
Vonshef brand doesn`t sell only mixers. They have a wide range of other products. They have blenders and juicers, cookers and ovens, grills, fryers, toasters. They also have pans and iron cast. You can find entertaining accessories and cutting and food storage utensils.
Where To Buy Them?
You can buy their products from their webshop. They guarantee a fast delivery in the U.K. and fair return policy. But if you live somewhere else, I recommend you to order your item from Amazon.com as they are their official distributor. You will get your product quicker and may have a discount, too.
Customer Care And Service
On their web page, they have customer support. You can contact them via mail or social networks. For every product you get a free 2-year warranty, you just have to register to have a right to use it. Also, you can find presales terms and selling terms to be safe. There are also logs with recipes and useful advice.
The Best Vonshef Hand Mixer Reviews
VonShef Electric Hand Mixer
Stylish And User-friendly Design
This model of Vonshef hand mixer has an eye-pleasing and modern design which suits to different interior designs. It has flat surfaces in red colour with a silver line in the middle. Thanks to the big handle, it is safe to hold. It is very lightweight, so you won`t have problems holding it too long.
Powerful Motor
Thanks to the powerful motor, you can use it for a different type of mixing. You can mix dough, cream or soups.Motor has 250W strength and can endurance difficult tasks. Also, it has protection from overheating and burning to be safe for the environment. If it starts to lose strength, you should take a break.
Stainless Steel Accessories
In an original package, you will get a pair of dough beaters, a pair of normal beaters and a balloon whisk. All of the accessories are made out of stainless steel and can last long. If they are put properly, they should work well. They shouldn't scratch a bowl, too. Yet, you should use them carefully.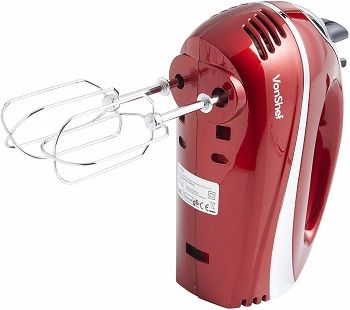 Many Functions
This mixer has many useful functions. First, it has 5 speeds, so you can find the one that perfectly fits. It has an eject button to remove beaters safely. It also has Turbo boost which helps you achieve maximum speed.
Easy To Clean And Storage
Thanks to modern design, it is very practical. All of the buttons are top-mounted, so you can easily reach them with one hand. It has big surfaces which are easy to clean with a wet sponge and all of the accessories can be washed in a dishwasher. When you reel a cable, it doesn`t use much space for storage.
Short description:
Stainless steel accessories
5 speeds and 250W motor
User-friendly design
VonShef Electric Hand Mixer Versions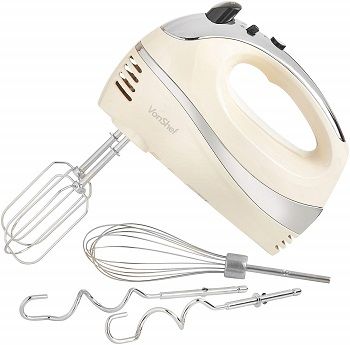 This model of hand mixer comes in many different colours. I have chosen a red model to describe you all main characteristics, but all of the other versions have the same characteristics. They can come in blue, black or white. They still have 250 W motor and speed number.
Vonshef Mixer Parts
Since you use mixer a lot in everyday situations, it is normal that parts can be broken or lost often. You can find Vonshef mixer attachments on Amazon.com or their site. You can replace broken or lost one or find another type of beaters.
Conclusion: Why To Buy Vonshef Hand Mixer?
Vonshef brand has a lot of different products to equip your kitchen. Yet, if you need a hand mixer, you should check this brand. Their mixers are user-friendly and have a compact design. It has good features for everyday use and is built to last long.  Also, you have good customer care and a fair price.
If you need to find more information about the hand mixer, you should read this article. If you are searching for the best model of hand mixer and want to compare more models, you should read this article about best hand mixer. Also, learn more about baking mixer from this blog.