Do you want to invest money in some Dash mixer, but you aren`t sure which one to chose?
I am here to help you!
In this article, I will give you a Dash mixer review and write about their characteristics. I will mention the most popular models of Dash hand and stand mixers and compare them. Read till the end to find all the information you need.

The Dash Kitchen Mixer Brand
The Brand History
They are a new company with people who work for them all over the world. They have a team of advisors based in New York. As their mission, they stress to unprocessed food. As we live in a hectic world, we should have time to care about our health and eat fresh and healthy food.
Range Of Products And Prices
They have a wide range of products, from air fryers, blenders, kettles, mini makers, mixers… The list is long. Prices are low and fair, you can find some cheaper solutions. Also, most of their products have a warranty.
Customer Care And Support
As a brand, they care a lot about customers. You can talk to a person in their chat room. There are many social media channels you can find them. Also, you can contact them via an e-mail. There are many recipes on the web page you can use for free. Also, you can become a member of lovers of unprocessed and real food.
Where To Buy Dash Mixers?
You can buy Dash electric mixer from their web page; they have a fair delivery and return policy. But, you can also find their products from distributors. I will recommend you Amazon.com because of fair and fast delivery and you can get a discount, too.
Register Your Product
When you register a product, they will ask you some questions to gather information on your preferences. You can find there all the information about your product and will get ideas and suggestions on different other products you may like.
Top 2 Dash Mixer Reviews
Dash Everyday Mixer
Cheap And Practical Solution
This model of the Dash stand mixer has a very affordable price and everyone can have this kind of help in their kitchens. It weighs little less than 5 lbs so is very easy to transport and move around the kitchen. Also, Dash cake mixer has a wide foot with a rubber bottom for more stability.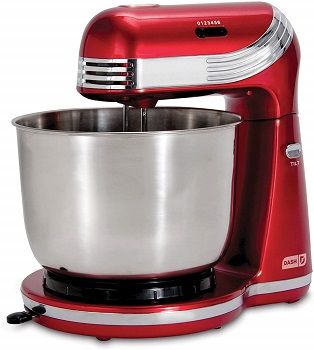 Motor Power And Speeds
The motor of Dash go mixer has 250 watts but is capable of everyday tasks. It has 6 speeds which you don`t need to know how to use because you will get speed manuals. You can combine, mix, beat, cream or whip. It also helps because you can have your hands free for doing other things.
Easy To Use And Clean
Dash go mixer has a full tilting head which helps you when you want to add ingredients. You can remove beaters with an eject button and without the mess. Speed button is on the side and easy to reach and control speeds. All of the attachments and bowl can be cleaned in a dishwasher.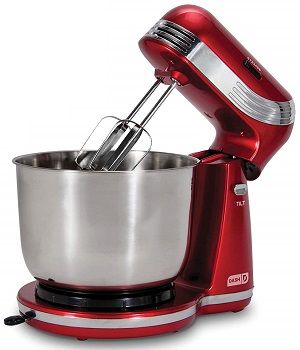 Attachments And Accessories
In an original package, you will get a pair of classic flat beaters and 2 dough hooks. Also, you will get stainless steel 3 quarts bowl for mixing. There are printed manuals and a 1-year warranty. Also, you will get a recipe book, but you can find tons of recipes.
Very Transportable
Since it is very small and practical, it is easy to move and bring everywhere you need. Also, it is easier to storage because it uses small space.
Short description:
6 speeds for any kind of mixing
Small and practical
Full tilting head
Dash Smartstore Hand Mixer
Practical Solution
The Dash Company produces very practical solutions for everyday tasks. This Dash hand mixer is a perfect solution for small kitchens and small storage space. It is very lightweight so you can hold it for a longer time. It has a very minimalistic design, cube with black lines around and a handle in it. It is cheap and anyone can afford it.
Storage Solution
It suits people who don`t have a space for Dash stand mixer but want Dash solutions. You don`t have to take care of beaters because you have a storage space on the mixer. Beaters are easy to eject with a button press and then you put them on clip storage on the mixer body. In that way, Dash food mixer uses less space and you can`t lose beaters easily.
Motor And Functions
it has a 150 watts motor and 3 speeds for different tasks. Since it is very practical, you can bring it for camping or vacation. It doesn`t overheat and will mix or combine ingredients. Also, the speed control allows you to control mixing.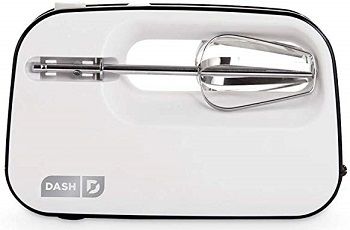 Use And Cleaning
All of the buttons: power button, speed button and an eject button are easy to reach. You can hold it firmly and easily control work. All of the non-electric parts can be washed in a dishwasher.
Accessories And Parts
In its original package, you will get 1-year warranty, original flat beaters, recipe book and access to recipe base.
Short description:
Very small and slim fits into a drawer
Clip storage for beaters
Very lightweight
3 speeds
Other Versions Of Dash Go Everyday Mixers
You can find both models of Dash stand and hand mixer in different colours. Their motto is to bring colours to your kitchen. Dash everyday mixer comes in different colours, like blue, black, grey-white… There is even a Dash Everyday mixer pink.
Dash Mixer Parts And Accessories
You can find Dash everyday stand mixer attachments from distributors. In some cases, you will get different attachments, but if you don`t get it or lose it, you can buy it online for an affordable price. There are different Dash mixer attachments, so check their offer.
Dash Mixer Manuals And Instructions
With warranty in every Dash stand mixer package, you will also get printed manuals. But if you lose them, you can download them from this site. In the manuals, you can read about how to use it properly and clean it. Also, you will get some tips and recipes. If you lose warranty, you can also download warranty policy from this site.
Conclusion: Why To Buy Dash Mixer?
The policy of Dash company is to produce compact and user-friendly mixers for everyday use. They also produce different colours to bring colours to every kitchen. Dash hand mixer is very slim and fits a drawer so you can carry it with you. On the other hand, Dash stand mixer is ideal for free-hands help.
If you want to read more and compare the best-rated hand mixer, visit this site. If you find other cheap stand mixer solution, read this article. And for extra information about electric hand mixer, I recommend you this blog.