Have you ever thought of buying a Dualit mixer, but you can`t decide which one?
Then you should read my article!
I will describe each model of mixer Dualit and stress its good features and characteristics. Also, there will be mentioned some of their problems and how to avoid or fix them. All in all, this article is a short review of things you need to know before buying any Dualit whisk.
The Dualit Brand Information
Long History Of Home And Professional Products
As the company was founded during the II World War, they have a long tradition of producing kitchen appliances. For years they are testing and improving their products and follow trends. They are well known for their toasters, but their offer has spread to many other appliances, helping both in your home kitchen or professional chefs.
Wide Offer Of Products
As mentioned before, they do cover any kind of food preparation. From mini ovens, blenders, juicers, to kettles and toasters, coffee machines and mixers, their products can equip a whole kitchen. Also, they have a sophisticated design that will fit into different interior designs.
Mixer Type To Satisfy Everybody
Some people like to hold a mixer in their hands while cooking, some avoid it. There is a type for everyone and you can choose between Dualit hand and Dualit stand mixer. Each has its pros and cons, but you can always choose to your preference.
Rapid Delivery
Most of their products can be found on Amazon, but if you want speedy delivery, you can check their web page. They guarantee to ship next workday if you order till 12 a.m. Yet, sites like Amazon can sometimes provide a lower price. I would recommend it if you are searching for a discount.
Customer Service
On their web page, you can easily contact them by e-mail. Also, you can find repair and return rules. They offer you servicing and lead you to step by step how to send it back. Among these useful things, they have a blog with recipes and much other interesting content for their customers.
Top 3 Dualit Mixer Type Reviews
Dualit Hand Mixer
Practical And Sophisticated Design
One of the most important things on first sight is product design. Well, Dualithand mixer has a modern and minimalistic design. The handle is strong and big enough to hold it firmly. It is curved to fit in hand and adjusted to keep it still while mixing. Buttons are on the top of the handle and easy to reach. That makes it friendly to use in any food preparation step.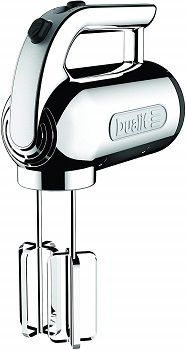 Strong Motor For Difficult Tasks
Dualit handheld mixer may look small at first, but it is very powerful. It has 400W motor which is powerful enough to whisk cream, batter or any other food. To control it, it comes with 4 speed, so you can adjust it easily and according to your needs.
Thankful Cord Tidy
Thanks to unique cord technology, it uses minimal storage. Under the Dualit hand whisk body, there is integral plug storage to ensure maximum safety. The cord is retractable and makes less mess and clutter. Also, thanks to cord design, there is less chance to plug it out of the mixer.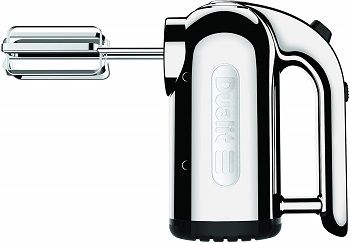 Easy Replaceable Parts
You get 3 types of beaters in each package: a pair of flat beaters, a pair of dough hooks and a balloon whisker. Since these are the parts that are most of the time in use, they can break easily. To be sure you use it right, place it gently on in the plastic part. But, if they don`t work properly, the company provides service and parts replacement.
Short description:
Powerful motor with 4 speeds
Unique cord technology
Practical and sophisticated design
Dualit Hand Blender
The ultimate 3 in 1 system
Dualit hand blender is more than just a professional hand mixer. It combines 3 functions in just one product. You can use it to blend, chop and whisk. It has 3 attachments: blending wand, chopper bowl with blade and balloon whisk attachment. With the easy and user-friendly adjustment, you can easily change any time you need one.
Ergonomic And Practical Design
This type of Dualit professional hand mixer is different because of its design. Its main core looks like a stick which you can easily hold in just one hand. Thanks to ergonomic design and not slipping grips, it is safe to work with. The foot doesn`t scratch pan, so it is safe for your dishes, too. Non-slip feet on additional bowls makes it completely safe even for children to use.
Powerful Machine For Better Results
This type of hand whisker has an even more powerful motor. It comes with 700W motor, so it has wider consumption: you can chop harder things, like grains or even ice. To control it, you can adjust the speed easily on the buttons on the top of the holder. Big balloon whisk and higher speed make it more practical for quicker results.
Easy Reparable And Replaceable Parts
Because of the powerful motor and harder things you will chop or whisk, parts can be easily broken. Even though the company tends to produce quality machines to last long, they have a fair replacement policy. Also, you get a year warranty for domestic use.
Short description:
3 functions in 1 machine
Powerful, but safe for your dishes
Ergonomic stick design
Conclusion: Why To Buy Dualit Mixers?
The first Dualit hand mixer is a classical model that will help in any kitchen. It is more suitable for lighter creams and batters. On the other side, the Dualit hand blender brings you professional help. You can make more of the batter at the same time, change attachments and chop your food. They both have a warranty for domestic use and customer support.
If you want to read more about different mixers, read this review on the best hand mixer. If you are searching for a cheap mixer for baking, you should read this post. All in all, if you don`t want to hold a mixer in your hand while mixing, read this post about the best stand mixer.